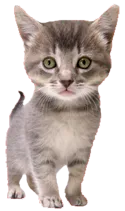 Appointments are scheduled for Tuesday, Thursday, Friday, and Saturday only. Walk-ins are accepted, though it is always encouraged to make an appointment.
We no longer provide payment plans as of January 1st, 2015 payment is due when services are rendered.

Wellness examinations (cats and dogs only) Fee- $65
Boarding Services.
Annual vaccinations.
Laboratory Services we provide in house Blood panels.
X-rays - $97
Nail trims - $25
Flea & Tick Prevantative (Frontline Gold- topical use and Credelio Chewable).
Heartworm Prevantatives (Interceptor Plus).
Snap Heartworm Test.
Snap FELV/FIV Test.
Microchip Implantation (HomeAgain) - $55
Dentistry services.
Spay and neuter.
General surgery.
Prescription diets (Hills Science Diet)
Domestic Health certificates.
International Health certificates.
...and much more!
---
Appointments

Our appointment book is computerized, which allows us to efficiently make appointments for you and your pet. Our receptionists and team will attempt to accommodate all requests to the best of our ability. Emergencies are accepted anytime our clinic is open. If you feel you have an emergency with your pet, please call us or come in immediately. If possible it is best to call before coming in so that a staff member can advise you on your particular emergency.
Emergency & Urgent Care
We have a veterinarian and personnel on duty six days a week who are trained and equipped to handle any urgent care your pet has. Usually an emergency team consists of at least one veterinarian and several technicians working together to save a pet's life. Emergencies can be things such as accidental ingestion of rat poison, hit by car, and chocolate ingestion. If you ever feel that your pet needs emergency treatment do not hesitate to call or come in immediately.
We are also available for urgent care when the condition is not life-threatening. If you feel your pet needs to be seen before you are able to get an appointment, our veterinarians will work to "squeeze" you in between scheduled appointments. When you arrive, our receptionists will be able to give you an estimate on how long you may have to wait in order to be seen.
Types of Pets Seen
Because a large number of veterinarians practice at Bedford Stuyvesant Veterinary Clinic, we can care for many types of pets:
Dogs
Cats
Rabbits*
Pocket Pets*
Reptiles*
Birds*
Small Farm Animals*
*Select veterinarians only. Call us for more information.
Discounts
Bedford Stuyvesant Veterinary Clinic offers discounted services to senior citizens and local area rescue groups. Pre-approval is required to qualify for the rescue group discounts, please call us for more information.